News from the Friends of Reinstein
Back to all News

Winter Message from the President
November 14, 2017
Dear Friends,
Although winter does not officially arrive until December 21, once November and the holidays fire up we can picture that beautiful white stuff falling so delicately to the ground! Ok, so I haven't painted one of your favorite pictures, but hey, it's Buffalo and it snows, so we have to make the most of it.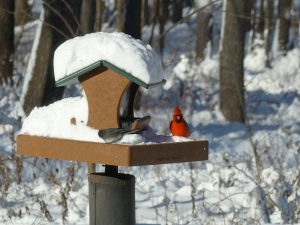 Just think of Reinstein Wood's snowy trails as you softly snowshoe or glide along on cross-country skis, watching the snow falling slowly around you! It's a fact that walking (or x-skiing) outdoors has many benefits for your well being. It is a major stress reliever as well as great exercise, more of which doctors say Americans both young and old sorely need!
Are you thinking: I could never walk in snowshoes, let alone put on a pair of cross-country skis! Trust me, if you can walk, you can definitely snowshoe, and you can join a "Learn to Ski" session (my personal favorite) at Reinstein Woods. So make a commitment to get out on the trails this winter and experience the beauty of snow transforming the landscape. You won't be disappointed.
Remember, Friends of Reinstein members get one free snowshoe or ski rental, and a discount on additional rentals. If I'm around, I'd be glad to help you get started!  Beyond snowshoes and skis, Reinstein Woods offers other seasonal educational programs that can help you get through the winter doldrums. I hope to see all of you at the Friends of Reinstein holiday party on Saturday, December 2. New members are welcome!
Terrence Boyle, President