News from the Friends of Reinstein
Back to all News

Volunteers Needed for Garlic Mustard Challenge
March 19, 2014
Pull. Weigh. Win:
Volunteers needed for fourth annual
"Garlic Mustard Challenge" to remove invasive species
Get outside this spring with an exciting volunteer opportunity to help make the local ecosystem healthier! Sign up your scout troop, volunteer organization, friends or fam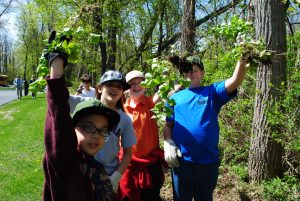 ily for the "Garlic Mustard Challenge"!  Garlic mustard is an invasive species that is negatively impacting the environment here in Western New York.  Fortunately, garlic mustard is easy to recognize and remove, which is where YOU come in! Last year, hundreds of volunteers removed more than 4,000 pounds of garlic mustard in Western New York.  Volunteers can sign up to combat this invasive species at four locations: Beaver Meadow Audubon Center in North Java, the Land Conservancy's Kenneglenn in Wales, Reinstein Woods Nature Preserve in Depew or the Lewiston Plateau Habitat Area in Lewiston.
Teams will be challenged to pull the most garlic mustard from their site between April 12, 2014 and June 12, 2014. All teams are invited to an informational "kickoff event" at Reinstein Woods on April 12th at 11:00 a.m. Attendance at this event is not mandatory. Prizes will be awarded to the teams that pull the most garlic mustard at each site.  This is a perfect opportunity for people of almost any age or ability to make a difference. Interested volunteers must register their team for any of the "pull sites" by calling Cara Politi at Reinstein Woods (716) 683-5959 x210. For more information, search "Garlic Mustard Challenge" on Facebook.