News from the Friends of Reinstein
Back to all News

Naturalist Intern Program Turns 10 Years Old!
November 14, 2017
In Fall 2007, DEC started a Naturalist Intern Program at Reinstein Woods, a paid internship program that provides training and experience to college students or recent graduates interested in environmental education. Since then, 63 people, ranging in age from 20 to 40+, have experienced what it's like to teach and learn at Reinstein Woods.
Last month, 18 past and present interns gathered with staff for a reunion to celebrate the 10th anniversary of the program!
Representatives from almost every year attended the reunion. The former interns enjoyed snacks provided by Friends of Reinstein Woods while reminiscing about their time here, viewing a slideshow of all 63 interns and sharing updates about what they are doing now. They had a chance to look back at their past projects and activities, too. There was even a photo area with animal costumes and props! Most of the group took a walk together around the trails, stopping to check out the screech owl roosting in its usual spot and heading out to see the remains of the champion beech tree.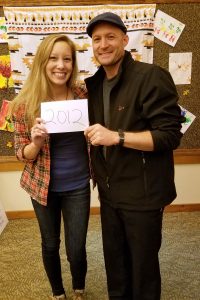 Former interns have gone on to work or intern for a variety of companies, non-profits, and government agencies, in locations as far away as California, New Hampshire and Florida (see below for a sampling!). We hope that our former interns share their love of nature and what they have learned at Reinstein Woods wherever they go, and we are looking forward to seeing them again at the 15th anniversary in five years!
Information about applying to the Naturalist Intern Program can be found on DEC's website.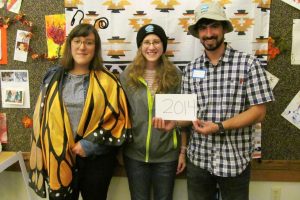 Where Have Reinstein Woods Naturalist Interns Gone? 
Adirondack Mountain Club; AmeriCorps/SCA; Buffalo Museum of Science; Buffalo Niagara Waterkeeper; Buffalo Zoo; Earth Spirit Educational Services; Erie County Park Rangers; Five Rivers Environmental Education Center; Friends of Reinstein Woods; General Motors; Girl Scouts; Heritage Education Program; Hubbard Brook Experimental Forest (NH); Mendacino Woodlands (CA); The Nature Conservancy (PA); NYS Department of Environmental Conservation; NYS Office of Parks, Recreation and Historic Preservation (Evangola State Park & Taconic Outdoor Education Center); Parks & People Foundation (MD); Pigeon Key Marine Science Center (FL); Pinellas County Park Rangers (FL); Pittsburgh Supercomputing Center (PA); Praxair (TX); Rochester Museum & Science Center; Rogers Environmental Education Center; Tetra Tech; Tifft Nature Preserve; Town of Amherst; US Fish & Wildlife Service; Virginia Department of Emergency Management; Wisconsin Dept. of Natural Resources; Western New York PRISM.