Our Start
In September 1986, the New York State Department of Environmental Conservation (DEC) formally assumed ownership of 244 acres in the town of Cheektowaga from the estate of Dr. Victor Reinstein, establishing the "Dr. Victor Reinstein Woods Nature Preserve." The property was open to the public on a limited basis until 2001, when DEC began to expand its environmental education programs and developed a volunteer program.
In early 2003, interest in Reinstein Woods' education programs and the volunteer program had grown to the extent that that DEC could no longer provide adequate funds to support these programs. DEC asked a core group of volunteers, who had organized the first Fall Festivals at Reinstein Woods, to form a non-profit "Friends" group to support the education and volunteer programs. In August 2003, those volunteers filed papers for the incorporation of Friends of Reinstein Nature Preserve, Inc. This group joined the ranks of "Friends" groups supporting three other DEC Environmental Education Centers operating across New York State. The group's first President was Mary Losi, assisted by Vice President Terrence Boyle. Jeanne Pawlik served as the group's first Treasurer, and Mark Lazeration as secretary. In 2014, the organization assumed the name Friends of Reinstein Woods. 
The Education Center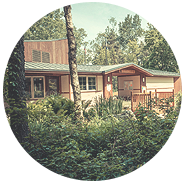 At the time, DEC's "environmental education center" consisted of a garden shed and two port-a-johns in the preserve's main parking lot. The efforts of the Friends and DEC staff established a base of support that enabled New York State to invest in building an environmental education center and related facilities at the property. The Friends board was quite pleased to begin holding board meetings in the new Reinstein Woods Environmental Education Center when it opened in 2007.
The Friends joined the Western New York Environmental Alliance in 2010. The group is a member of the New York Council of Nonprofits and an affiliate member of the New York State Outdoor Education Association and the Association of Nature Center Administrators.
Our Mission
Friends of Reinstein Woods (incorporated as Friends of Reinstein Nature Preserve, Inc.) is a volunteer-led, nonprofit organization that supports the environmental education programs offered by the New York State Department of Environmental Conservation at Reinstein Woods. We provide vital financial and volunteer support for programs aimed at school children, teachers, youth from underserved neighborhoods, and the general public. We also support stewardship projects designed to protect and restore the natural habitats at Reinstein Woods.
The Mission of Friends of Reinstein Woods is to promote knowledge of nature through awareness, appreciation, and stewardship of the unique and diverse environment of Reinstein Woods and its programs.