A Day in the Life of the Buffalo River
With the help of local environmental organizations, Reinstein Woods staff, and volunteers, students collect scientific data along the Buffalo River and its major tributaries, creating a "snapshot" of the watershed at one point in time. Students measure water clarity, test water chemistry and investigate aquatic life. There is no charge to participate, and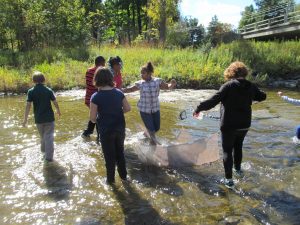 teachers receive training, supplies and the opportunity to apply for a free bus to transport students to the study site. The data students collect are posted online to allow classes to compare their results with that of other sites and other years. A summary Report of the 2017 event and data collected is also available here.
The program is made possible through the generous support of the Julia Reinstein Trust with additional support from Ingram Micro.
This event happens every fall. The application form will be available on this page in March 2018. Interested educators can also email Mary Ronan at mary.ronan@dec.ny.gov to request to be notified when applications are available. For more information, contact Reinstein Woods at 716-683-5959, extension 201.
As the main focus of this program is data collection, it is most appropriate for grades 4 and up. Teachers are strongly encouraged to look over the Teacher Packet, before applying.
Resource Links
Teachers  Important resources for participating teachers.
Partners and Volunteers  Training and event resources for partner organizations and volunteers.
Sample Sites  Descriptions, addresses, and photos of each sample site.
Data  Explore data collected from past events.