News from the Friends of Reinstein
Back to all News

Students Experience "Day in the Life"
November 23, 2016
By Jill Zerkowski, Naturalist Intern
On September 29, more than 300 students, teachers and volunteers arrived on the shores of the Buffalo River and its tributaries. Equipped with tools such as nets, tubes, clipboards and data sheets, students from six schools from across western New York were ready to explore the complex relationships that are found in the Buffalo River. The fourth annual Day in the Life of the Buffalo River found students ankle deep in water, giving them a unique hands-on experience.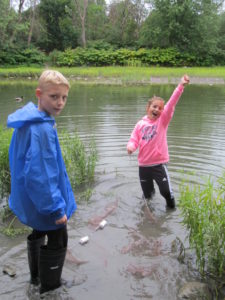 In addition to the students, teachers and volunteers, several partner organizations were on-site to help with the event. Representatives from the Erie County Park Rangers, Buffalo Niagara Riverkeeper, NYS Department of Environmental Conservation's Great Lakes Program, and US Fish & Wildlife Service's Lower Great Lakes Fish & Wildlife Conservation Office worked with students at ten different sites to collect data about water quality, biodiversity, create maps, as well as to share the history of the Buffalo River.
All of the data collected by the students will be posted on the web and shared between the participating classes.
Reinstein Woods gave students and educators a day they most likely won't forget.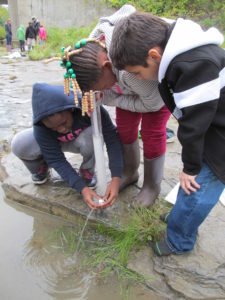 Learning to do real science, like measuring turbidity (the cloudiness in the water), is one benefit of the program.  "The turbidity tube was awesome! We poured the water in (the tube), and the secchi disk actually disappeared! It was so cool when we let the water out and could see the disk again," said one student.
Brittany Rowan, Friends of Reinstein Woods environmental educator, said, "This event is a great opportunity for students to investigate this local water resource and take real-world data. It's exciting for them to become scientists for a day."
Special thanks to the local offices of Ingram Micro and Northrop Grumman for providing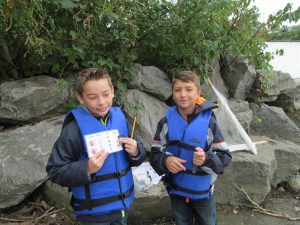 funding to support this STEM (Science, Technology, Engineering and Math) program. The Julia B. Reinstein Trust also provides financial support that makes this program possible.