Friends of Reinstein Woods
2016 President's Appeal
Dear Friends,
The other day while visiting my favorite news website, I came across some disturbing information presented by the World Wildlife Foundation. The program stated that by the end of the decade, we could lose more than two thirds of the world's wildlife if we don't take action soon. It was also mentioned that since the 1970's, there has already been a 58% overall decline in the numbers of fish, mammals, birds and reptiles worldwide. If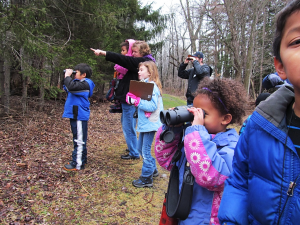 accurate, that means wildlife across the globe is vanishing at a rate of 2% a year. Staggering right?
With that thought in mind, I am concerned for all the future generations of people who will never experience the variety of wildlife and plants we have seen within our lifetimes. In a world of digital entertainment and social media being directed at children and adults alike at every angle, it is more important now than ever to get people educated and aware that our environment is in distress and needs immediate attention!
Your first thought might be, 'How can I help, as I am only one person and I already abide by "green living" standards?' The answer is quite simple, and you are already a part of the solution since you are receiving this letter!
Reinstein Woods Environmental Education Center plays a major role in educating our school children, teachers, and the surrounding community to help people understand how to be an environmental advocate for their own community and the earth as a whole. It's all about numbers; even if one student out of 30 becomes a future biologist or environmentalist, we have done our job to turn the tide on some of those frightening statistics. Let's face it, it's not getting easier to fix the damage done to our environment over the past decades, but one thing I do know is that it's much more expensive to cleanup than to prevent damage in the first place. Here's where the Friends need your help!
 The education center annually reaches out to 30,000 people each year through a variety of programs such as summer day camps, in-school programs throughout underserved neighborhoods, our Fall Festivals, Earth Day, teacher workshops, educational hikes, and many others. However, without funding through our organization, most of these programs could not exist, which would negatively impact our mission to educate our community about these critical issues. Therefore, I am reaching out to all of my and Reinstein's "friends" to help us carry on and continue our mission to play a major role in environmental awareness in our community. You can be sure that your generous donation will help shape the next future biologist, zoologist or environmentalist…and our world will certainly need them!
Your donation will allow us:
 To continue providing environmental education to students of all backgrounds through in-school and on-site environmental education programs, and
To provide opportunities for the public to share in Nature's Harmony through snowshoe and ski rentals, programs on environmental topics, and
To connect children to nature through our "Kids in the Woods" summer camps, and
To continue our stewardship of Reinstein Woods, by providing funds for invasive species control, habitat improvement projects and trail maintenance.
We sincerely appreciate your past and future support of this important cause
Yours very truly, in respect for nature,
Terrence J. Boyle, President

"No matter where I am, Reinstein Woods continues to hold a very special place in my heart…The strong sense of community and shared joy in nature's harmony will always make this place stand out in my mind."
~David Banchich, former Naturalist Intern, currently working at an environmental education facility in Ohio
Choose a different amount:
Product Description
If you wish to donate a different amount to the annual appeal, enter it here.