Friends of Reinstein Woods
2017 Earth Day Appeal
Dear Friends,
Earth Day always reminds me of the great times I had as a kid growing up, and I thought I might start this greeting by sharing a personal recollection.
I was truly fortunate as a kid to have a creek right at the end of my street, where I spent all my free time. I frequently brought home different critters (much to my mom's dismay), from frogs to snakes to crayfish to mice- quite a variety for sure! When I moved into adulthood, got married and moved away, I got a bit away from nature. However, when my kids came into our lives, I once again got back to nature and also moved back home.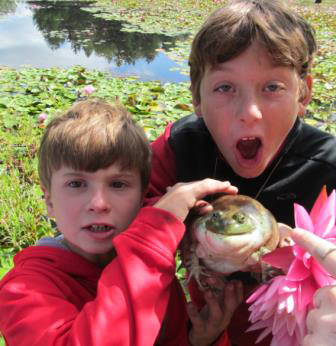 When I trotted my two boys down to the creek that I fondly remembered, things were a bit different! I didn't find any frogs, tadpoles or crayfish, no minnows or even those gross black blood suckers! Pollution had really taken its toll on this creek. I was hit hard with the fact that my boys would miss out on all those fascinating, slimy, creepy, crawly creatures that I could easily catch and examine as a child.
Thankfully, Earth Day was founded in 1970 as a day of education about environmental issues. Earth Day is now a globally celebrated holiday that is sometimes extended into Earth Week, a full seven days of events focused on green awareness. Although our environment is much better protected and monitored than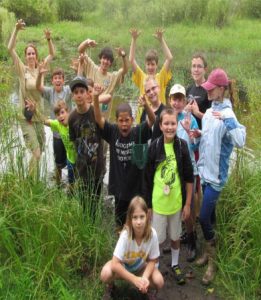 before, unfortunately many of our creeks and rivers still have health issues.
There is hope- organizations like Friends of Reinstein Woods are working hard to educate children and adults about the need to protect our natural resources. To ensure future generations can enjoy the benefits of outdoor environments such as Reinstein Woods, you and I both can generously donate funds to keep programs and learning supplies readily available to teach students, teachers, and adults the value of our environment. Won't you please consider helping our organization continue our mission to help all people appreciate and enjoy what nature has put before us.
Did you know that Reinstein Woods has provided programs for about 6,600 school-age children in 2016 and that more than half were from under-served neighborhoods? That fact alone proves we are reaching out and succeeding in our mission!
Your generous donations get put to use in so many important aspects within our organization:
Providing bussing for people from underserved neighborhoods to visit Reinstein Woods.
Providing teacher workshop training supplies to help educators develop the next generation of environmental stewards.
Providing a financial conduit for our paid naturalist internship program.
Providing supplies for public programs throughout the year, including the Fall Festival and Winter Wonderland.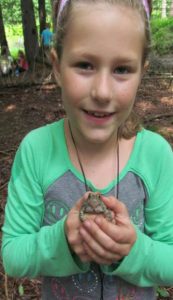 Folks like you and I recognize just how important it is to support all the great things Reinstein Woods has to offer. I sincerely thank you for your generous support for this Earth Day appeal as well as other contributions you have made in support of Reinstein Woods. I am always humbled by the support folks like you have given to help make Reinstein Woods an everlasting educationally "jewel."
As always, please enjoy and respect nature and I hope to see you soon at the Woods!
Terrence J. Boyle, President
P.S. Quotes like this from one of our recent donors really make all our efforts worth it:
"We support Reinstein Woods because it's a magical place where children and adults alike can be surprised, delighted, and refreshed by the wonders of the natural world."
– Sue Banchich
Choose a different amount:
Description
If you wish to donate a different amount to the annual appeal, enter it here.